'Friendly Fire is a gripping – but not altogether comfortable – read.' Birmingham Evening Mail
'This intelligent examination of the dynamics between the Allies in World War II unearths a dark trunk of conspiracies… a compelling read.' The Good Book Guide
Friendly Fire
(2004) strips away the wartime propaganda that seamlessly became accepted 'fact', revealing the intrigue and treachery between - and within - the nations that were ostensibly on the same side, the Allies of the Second World War.
Always jockeying to be in superior position for after the war, the Allies' war effort was driven first and foremost by vested interests, concerns about the defeat of Nazi Germany and Japan being secondary. In fact, their machinations actually prolonged the war by as much as two years - causing the death of hundreds of thousands unnecessarily - and resulting in a Europe divided between East and West, and the onset of the Cold War.
Incredibly, the administration of American President Franklin D. Roosevelt actively encouraged the conflict between Britain and Germany, while the relations between Britain and America were characterised by suspicion, mistrust and a struggle for post-war supremacy.
Friendly Fire reveals how British agents even tricked Hitler into declaring war on the US in order to bring America into the European conflict and how, under the guise of war aid, the US gave the USSR the means to establish itself as a world superpower - including, from 1943, the secrets of the atom bomb...
Lynn, Clive, Stephen and Robert based this book on extensive research on both sides of the Atlantic, drawing on information obtained from important archives and the testimonies of individuals who had been actively and intimately involved with the pivotal events.
Friendly Fire exposes the shocking truth about now-legendary figures - Churchill, Roosevelt and Stalin - who actively shaped the destiny of countless millions, and uncovers the real agenda behind the formation of the post-war world, and the consequences that we are still living with in the 21st-century.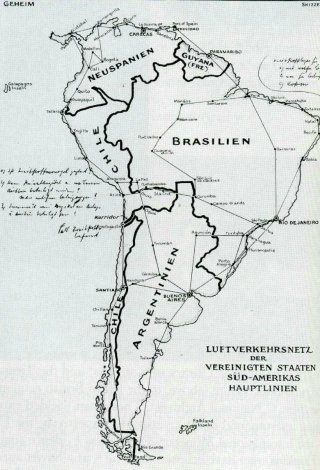 Part of the Second World War's 'dodgy dossier' – a map faked by British intelligence in 1941 apparently showing Nazi designs on America, to persuade the US government to increase aid to Britain