'Finally a comprehensible and instructive history of the myth of the "royal blood" and supposed descendants of Jesus.' Javier Sierra, author of The Secret Supper
'…for Da Vinci Code fans hungry for additional digging behind the fiction, this will be a dense but satisfying read.' Publishers' Weekly
The
Da Vinci Code
phenomenon has ensured that millions of readers the world over are familiar with the idea of the Priory of Sion, alleged to be a 1000-year-old secret society, based in France, who chivalrously and nobly protect the sacred bloodline of Christ and Mary Magdalene.
However, Lynn and Clive's ten-year research has demonstrated that there is no sacred bloodline (although Jesus and Mary were almost certainly in an intimate relationship and may well have had children), and in any case the Priory of Sion was created as recently as 1956. But although there is nothing remotely noble or chivalrous about the real Priory of Sion, it would be a grave mistake to dismiss it as unimportant...
The Sion Revelation (2006) uncovers the unvarnished and objective truth about an organisation that from the first was involved with or closely associated with civil unrest and even terrorism, although in fact it is more of a cover or front for other organisations, mainly in the political arena. (Its original raison d'être was its leading role in the restoration of Charles de Gaulle to power in 1958.)
And although the by-now infamous Pierre Plantard, Grand Master in the 1980s, is customarily discounted as a fantasist, con-man and hoaxer, he never worked alone and never made any money out of the Priory of Sion, often collaborating with far superior intellects on complex literary 'jokes' - which nevertheless contained real information.
Lynn and Clive reveal that the real Priory of Sion - or the organisations that lie behind it - have long been intent upon creating a United States of Europe, infiltrating existing systems of government in accordance with the sinister ideology of synarchy - or 'invisible revolution'.
The real Priory of Sion may not be the romantic heroes of the sacred bloodline, but from their chosen place in the shadows they are major players on the European stage.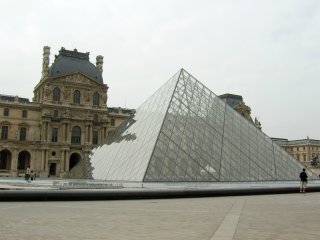 Mitterrand's new pyramid outside the Louvre Museum, Paris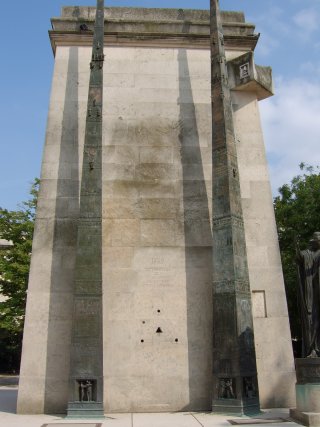 Mitterrand's highly esoteric Monument to the Rights of Man and the Citizen, Paris